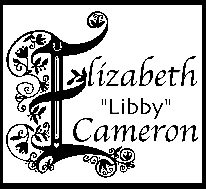 Commissioned Art Work
Portrait Painter
None of this work can be copied without permission from
the Artist, Elizabeth Cameron. All work is copyrighted.
Contact horseart2@gmail.com
Paintings That Are For Sale



"Four Gold Polo At Uihlein Field"
Acrylic on canvas
Size: 20x36 (40w x 24h framed in gold)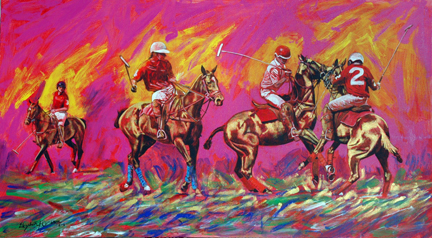 I love the energy of polo!
It was fun to combine colors with realistic figures.
That's iridescent gold on the horse's highlights.
This was painted from photos I took at a game
many years ago. It was fun to cut loose on color!
$3000.

"Circling Game"
Oil on canvas
Size: 34x17 (42w x 25h in gold frame)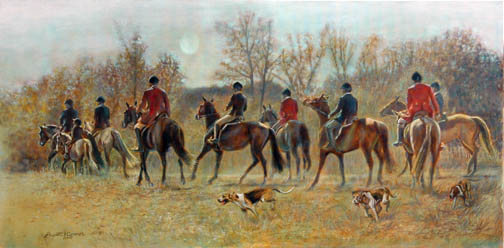 A second field of riders in the hunt moves toward
where the first field was seen. Meanwhile the coyote
has cleverly circled back. A few of the hounds know
this, and some of the horses sense the hounds behind...
$5500.


"Cloud Hunter"
Oil on canvas
Size: 20" circle (23.5 gold frame)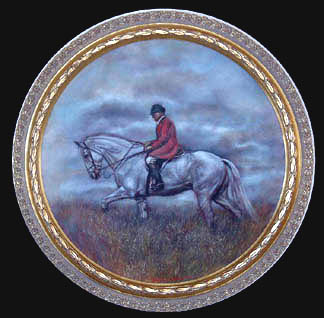 The aged rider on the magnificent
horse... their solitude romantic
and timeless on the hillside.
$3800.


"Gray Attention"
Acrylic on canvas
Size: 24x18 (27w x 21h framed)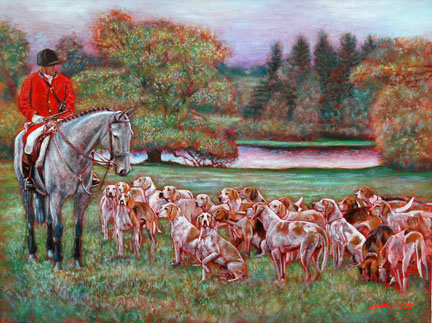 Interesting to feel invisible to the pack except for
the one hound turned towards me... She was not being
attentive to her huntsman, but who can blame her for
having a wider field of vision, and one leg lifted
as if pausing in her thoughts.
$3900.


"The Leaf Toy"
Acrylic on archival panel
Size: 11x14 (15w x 18h burled wood frame)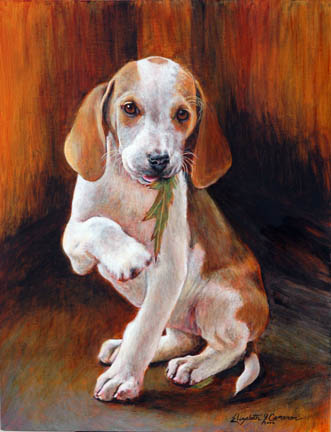 A darling hound puppy left behind in the kennel...
Her delight in finding a leaf and making it
the perfect toy to pounce on and hold.
The artist was her enchanted witness.
$1500.


"Hark!"
Oil on canvas
Size: 28x24 (32.5w x 28.5h mahogany color wood frame)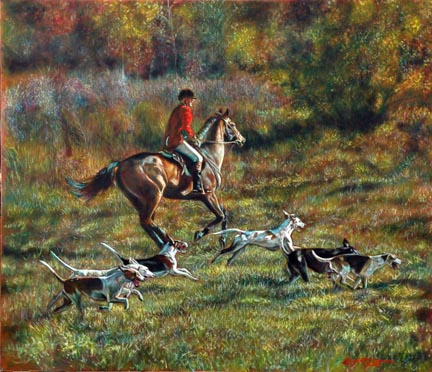 What a glorious moment and so hard to capture.
Taking photos of the foxhunt (to paint from later)
is incredibly challenging because it is so unpredictable!
You don't know where the action will be coming from, you
have to stay out of the way, and the lighting is totally random!
I loved the way the oil paint reflects the luminous sun
in the finished piece.
$7,000.


"The Pearly Gates"
Acrylic on archival panel
Size: 11x14 (17 x 14.5 wood frame with dentil detailing)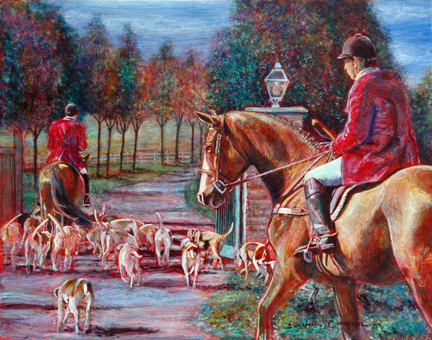 I liked the way the colors peeked
through to give somewhat of a rainbow
effect throughout the painting.
$2600.


"Hounds As Koi"
Acrylic on canvas
Size: 48x30 (54w x 37h dark mahogany color wood frame)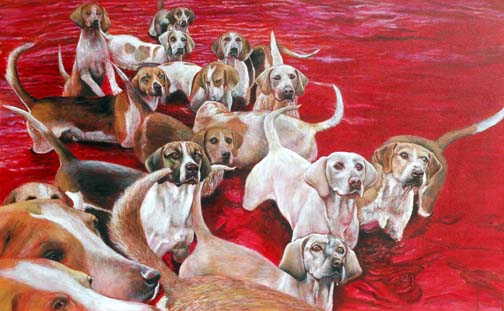 I liked the red so much I could
not bring myself to finish the piece
in my usual realistic manner.
$6000.


"Daisy In Grass"
Acrylic on archival panel
Size: 16x12 (23.5w x 19.5h gold wood frame)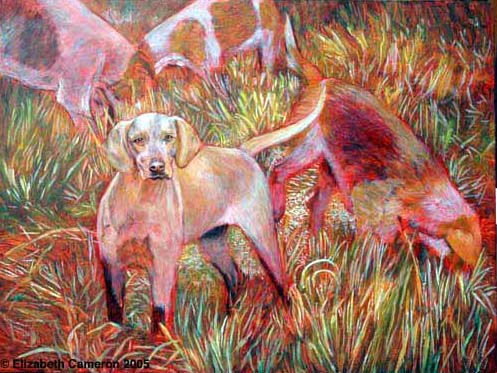 Dais had a big splash of mud
across her face as she paused
to look up from the grass.
$2500.


"Hound Swirl"
Acrylic on archival panel
Size: 14x11 (21w x 18h silver and black sort of "trout scale" looking wood frame)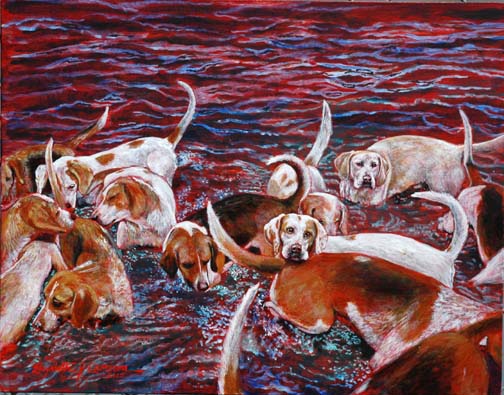 I enjoyed the way the hounds
intereacted with each other
in the water, sniffing and
socializing.
$2200.


Do you have friends & family who care
about their loved ones like you do?
Please let them know how I can be of service.
Your referrals are my best compliment!
Thank you.


Videos: How I Paint
The Love of Grays
2009 Paintings!
Paintings That Are For Sale
Corporate Casual
The Stier-Johnson Family
The Cameron Family Portraits
Artist Biography
Paintings From 2006
... The Newest Paintings!
Carriage Driving!
Paintings From 2004-2005
Foxhunt & Hound Series
More Progress In The Foxhunt & Hound Series
My cartoon books
Page 1. - Portraits
Page 2. - Portraits
Page 3. - Portraits
Page 4. - Portraits
Page 5. - Portraits
Page 6. - Portraits
Page 7. - Portraits
Page 8. - Dog Portraits
Page 9. - More Dog Portraits
Page 10. - Flower Paintings In Bloom
Page 11. - Dogs, Dogs & More Dogs!
Page 12. - Never Too Many Dogs!
Page 13. - Dogarama Spectacular!
Page 14. - Life With Horses
Page 15. - Hunting & Horses
Page 16. - Sibling & Scenics
Page 17. - Childhood Horses & Puppy Pix
Page 18. - Horse Portraits
Faerietale Farm Reality
Procedures & Prices

---
This page hosted by Tripod - Free home Pages