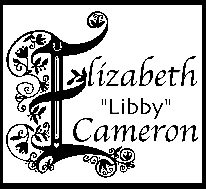 The LINKS Page



"Family Talent!"

Chris "Chicago Hambone" Cameron, Musician.

Jaimie Cameron, Musician.

Julia Cameron, Author.



Do you have friends & family who care
about their loved ones like you do?
Please let them know how I can be of service.
Your referrals are my highest compliment!
Thank you.
Email contact: horseart2@gmail.com

All work is copyrighted.
These images are not to be copied without permission
from the Artist, Elizabeth Cameron.


Videos: How I Paint
2009 Paintings!
Corporate Casual
The Stier-Johnson Family
The Cameron Family Portraits
Artist Biography
Paintings That Are For Sale
Paintings From 2006
... The Newest Paintings!
Carriage Driving!
Recent Paintings From 2004-2005
Foxhunt & Hound Series
More Progress In The Foxhunt & Hound Series
My cartoon books
Page 1. - Portraits
Page 2. - Portraits
Page 3. - Portraits
Page 4. - Portraits
Page 5. - Portraits
Page 6. - Portraits
Page 7. - Portraits
Page 8. - Dog Portraits
Page 9. - More Dog Portraits
Page 10. - Flower Paintings In Bloom
Page 11. - Dogs, Dogs & More Dogs!
Page 12. - Never Too Many Dogs!
Page 13. - Dogarama Spectacular!
Page 14. - Life With Horses
Page 15. - Hunting & Horses
Page 16. - Sibling & Scenics
Page 17. - Childhood Horses & Puppy Pix
Page 18. - Horse Portraits
Faerietale Farm Reality
Procedures & Prices

---
This page hosted by Tripod - Free home Pages