"Bristol & Jem" for Drs. Lisa and Joe Sanfelippo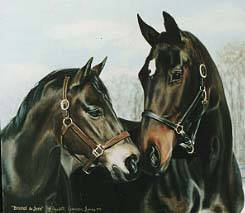 This portrait was done as a surprise for Joe's wife Lisa.
I'm convinced the young Warmblood on the right
was asking the older Quarter Horse if I was
a new vet or someting!

Gary Evans & Domino - The Birthday Present"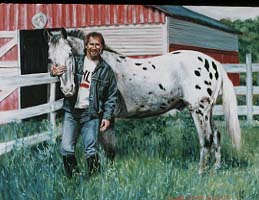 I did this of Mr. Evans from reference photos
I had taken the day he got Domino.
They were instantly old friends.

Eethree Supreme with Sunflowers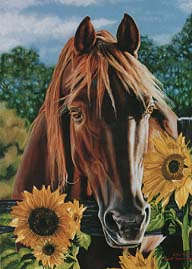 I had taken a few unposed 'grab' shots of The Roy-El senior
Morgan stallion while visiting the ranch a few years ago.
Eethree was as curious about me as I was about him!
I added the sunflowers to represent New Mexico.

The Artist at Play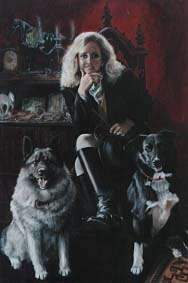 Self Portrait with Wolf & Skippy.

"Gay Tribute & Mikk's Gay Glady"Morgans for Marsha Valance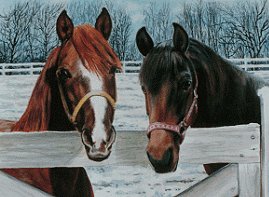 The mare on the right, Marsha's favorite broodmare, had died, but
Marsha had one good photo of her in cross ties that I could work
from. We posed her gelding at left to complement the mare's pose.
I added a snow scene and fencing, as that was a very typical pose
for them as they often watched for Marsha.
Marsha Valance says:
"I first saw Libby's artwork in the early 1990s, and was
blown away by how perfectly she captured the horses' personalities.
When my foundation mare, Mikk's Gay Glady, died in December 1994,
I knew I wanted to have Libby immortalize her for me.
I was lucky enough to be hired by a Wisconsin library system to do 1995
summer reading program storytelling performances for 14 of their libraries.
Check in hand, I phoned Libby. She came to the stable, took rolls of film of Glady's
brother Trib, and saw the snapshot I had taken of the pair of them at the paddock
fence that I wanted for the pose. She had me blow up to 8x10
a head shot I'd taken of Glady for reference. Armed with all this, Libby created a
watercolor so amazing Trib seems about to step out of the painting.
In my previous house it hung in the dining area, where I'd see it every
morning. In my current house, it hangs in the living room, where
I see it every night. Every visitor remarks on it."