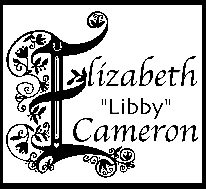 Commissioned Art Work
Portrait Painter
None of this work can be copied without permission from
the Artist, Elizabeth Cameron. All work is copyrighted.

Contact horseart2@gmail.com
It's a Dogarama Spectacular!

"RB"
(Crown Point Smokin Red Bird)
for Dick and Barb Budny
watercolor mixed-media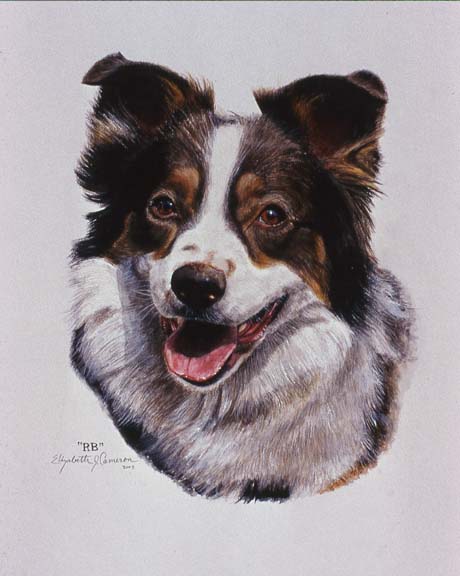 Rb is one great little bundle of dog!
She is a flyball blur!
We got so many good photos of her that
Barb and Dick decided on two portraits. One,
this head study in watercolor, and the
other, a full body pose in oils.
What a great subject!

"RB"
(Crown Point Smokin Red Bird)
for Dick and Barb Budny
oil 14 x 18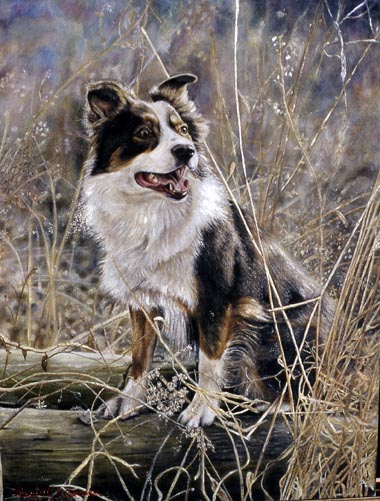 This was painted from one of my last reference
shots on the roll, as so often happens!
I figured I already had some super head
shots as she was so alert and expressive.
Then she climbed on a horse jump and something
caught her eye in the distance...

"Muffin" for Barb & Dick Budny
watercolor mixed-media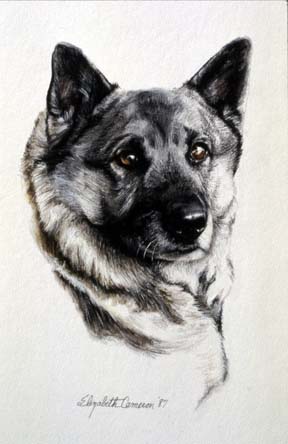 What a classic Norwegian Elkhound beauty!

"Daisy, Violet, and Iris" for Pam Johnson
oil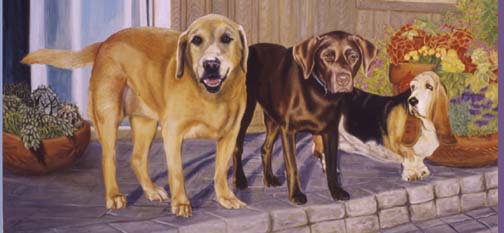 What a good threesome.
Daisy, the bassett, may be having some words
with her 'sisters'. I am learning to look at the
subtle interactions in family packs more and more
and enjoy so much that I previously missed!

"Petunia" for Dr. Alic Marold DVM
watercolor mixed-media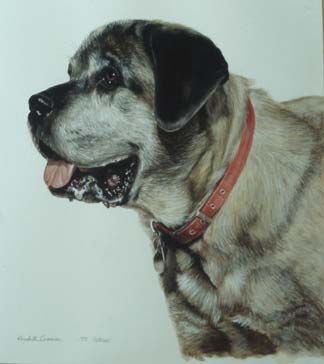 I love painting for Dr. Marold. She liked
her Mastiff just "as is", and it was fun
to paint in all the bubbles!

"Betty & Tilly" for Greg & Jenny Berg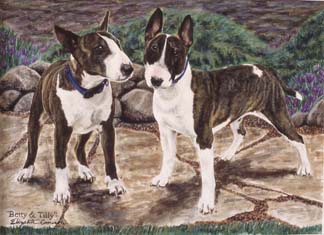 English Bull Terriers, with great personalities!
As an animal lover one of the best
perks of my "job" is getting to meet so many
fascinating breeds and their interesting owners.

"Three Generations" for Dr. and Mrs. Jim Kane of Barrington, Illinois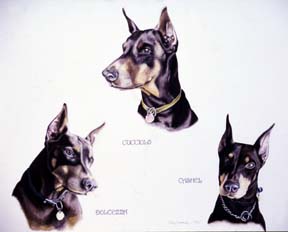 I was nervous to be photographing 3 dobermans,
but then I discovered how dear they were!
They were so well behaved.
This was a mother, daughter, and grandaughter.
They had the painting framed with a suede
matt and it looked fantastic!

"Dillinger" for Jim and Caren Heft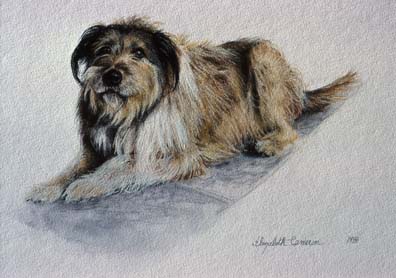 Talk about endearing personality!
Sometimes you just can't beat a
mixed breed dog!

"Ralph" for Cheryl and Aidan Mullett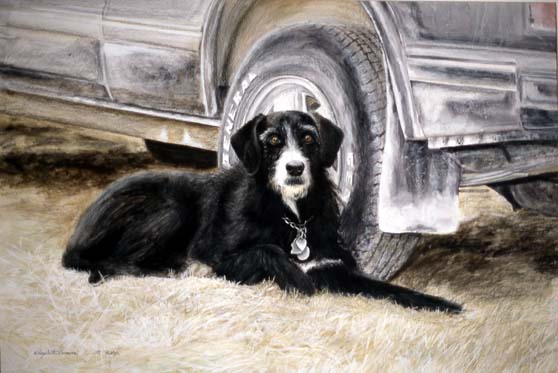 Ralph was like a cartoon dog he was so cute.
Of course he had to be posed waiting by the
truck as he lived to go for those rides!
Videos: How I Paint
The Love of Grays
2009 Paintings!
Paintings That Are For Sale
Corporate Casual
The Cameron Family Portraits
The Stier-Johnson Family
Artist Biography
Paintings From 2006
...Continuing Paintings From 2006!
Carriage Driving!
Paintings From 2004-2005
Foxhunt & Hound Series
More Progress In The Foxhunt & Hound Series
My cartoon books
Page 1. - Portraits
Page 2. - Portraits
Page 3. - Portraits
Page 4. - Portraits
Page 5. - Portraits
Page 6. - Portraits
Page 7. - Portraits
Page 8. - Dog Portraits
Page 9. - More Dog Portraits
Page 10. - Flower Paintings In Bloom
Page 11. - Dogs, Dogs & More Dogs!
Page 12. - Never Too Many Dogs!
Page 13. - Dogarama Spectacular!
Page 14. - Life With Horses
Page 15. - Hunting & Horses
Page 16. - Sibling & Scenics
Page 17. - Childhood Horses & Puppy Pix
Page 18. - Horse Portraits
Faerietale Farm Reality
Procedures & Prices

---
This page hosted by Tripod - Free home Pages