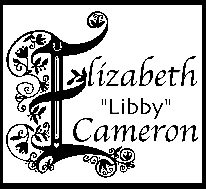 Commissioned Art Work
Portrait Painter
None of this work can be copied without permission from
the Artist, Elizabeth Cameron. All work is copyrighted.

Contact horseart2@gmail.com
Life With Horses Is Great!

"Dr. Kim Kind-Bauer, Benji & Sam"
watercolor mixed-media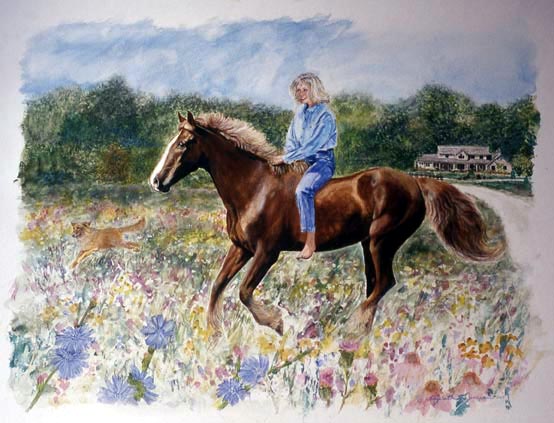 Kim rides 30(!) year old Benji through a fantasy
field of wildflowers near her house with her dear
dog Sam. We both loved the combination of reality and impressionistic fantasy!

"Shari Voeltz and Flip"
for Janet Voeltz
watercolor mixed-media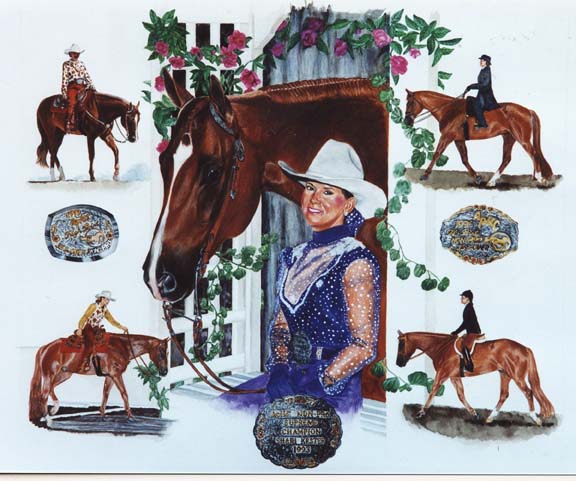 Shari has won more titles and belt buckles with her
versatile appaloosa than we could ever show!

"Allie Tollakson and Balderdash"
for Terry and Patty Tollakson
oil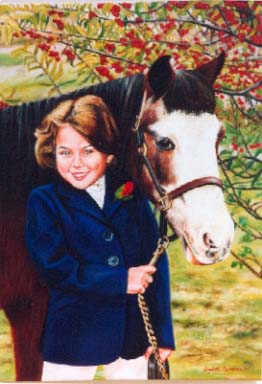 I think Alie looks like a young Jackie Kennedy!
Balderdash was the pony she learned to ride on.

"Declan" (in progress) for Maryann Collins
oil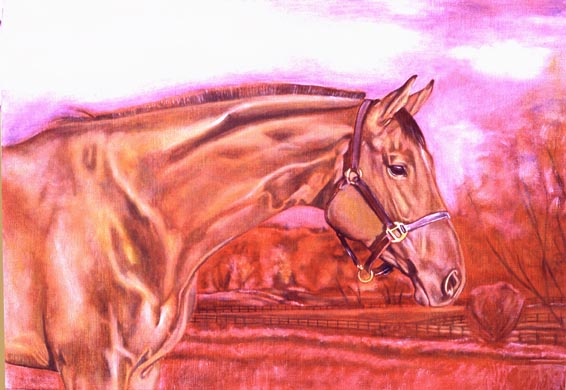 This is my portrait in progress of the young
Warmblood gelding. It is done in a more transparently
layered technique for oil that gives it a glow.
Mary Ann says:
"The oil of Declan my horse is absolutely breath taking.
The perfectionist that Libby is came out in this portrait.
I also really enjoyed visiting her studio and seeing her
other works of art in progress.
Libby loves working with animals and knows
how to capture their personalities."

(Personally I feel when the spouse loves the
painting too, that is high praise indeed!)
The following is from Mary Ann's husband, Dennis Collins!
"There are different levels of artistry.
It's one thing to be able to play chopsticks on a piano.
It's totally different playing Chopin.
It's one thing to paint a living room.
It's another thing to create life with a brush.
"Ms. Cameron is Chopin with a palette."


"Declan"
(finished)
oil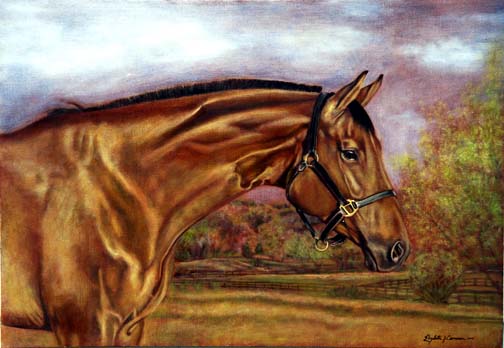 The final portrait has a richness that
only layers of oil can give.
The presence Declan brings to it is God's doing!
(Of course website photos of paintings don't ever show
enough detail and subtle coloring!)


"Saudi" the artist's Arabian mare
watercolor mixed-media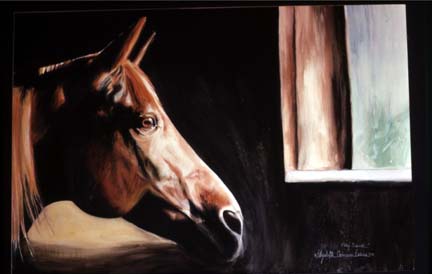 I loved the way the light shone on her bone
structure as I groomed her one day.
I ran to get my camera for reference photos
and this is the resulting painting. Saudi's personality
was that of a 'dreamer', and the faraway look was her!

"Saudi In Heaven" also of the artist's Arabian mare
oil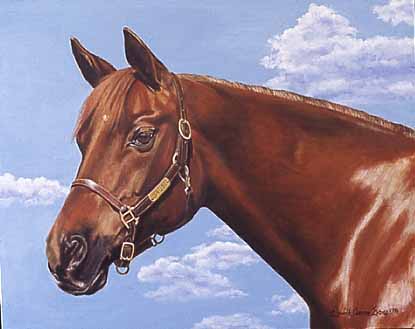 I had Saudi 3 more years after colic surgery at 27.
She became much warmer toward me and I had to
do a portrait that showed that!
This was inspired by a sympathy card my niece Emma
drew and sent to me.

"Saudi's Bit & My Boots"
watercolor mixed-media

I loved African Violets and the view of the
paddock through my window.

"Cimmeron" for Terry Nelson
watercolor mixed-media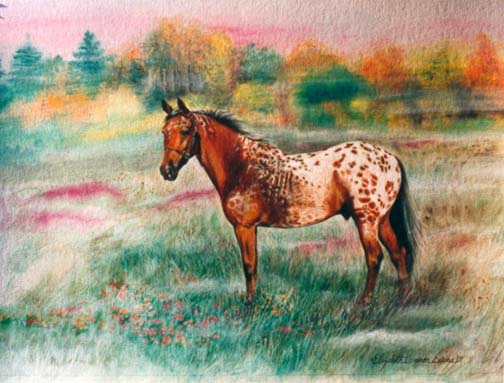 I wanted to show this appaloosa in what might have been a
native prairie background. It suits him!
Videos: How I Paint
The Love of Grays
2009 Paintings!
Paintings That Are For Sale
Corporate Casual
The Cameron Family Portraits
The Stier-Johnson Family
Artist Biography
Paintings From 2006!
...Continuing Paintings From 2006!
Carriage Driving!
Paintings From 2004-2005
Foxhunt & Hound Series
More Progress In The Foxhunt & Hound Series
My cartoon books
Page 1. - Portraits
Page 2. - Portraits
Page 3. - Portraits
Page 4. - Portraits
Page 5. - Portraits
Page 6. - Portraits
Page 7. - Portraits
Page 8. - Dog Portraits
Page 9. - More Dog Portraits
Page 10. - Flower Paintings In Bloom
Page 11. - Dogs, Dogs & More Dogs!
Page 12. - Never Too Many Dogs!
Page 13. - Dogarama Spectacular!
Page 14. - Life With Horses
Page 15. - Hunting & Horses
Page 16. - Sibling & Scenics
Page 17. - Childhood Horses & Puppy Pix
Page 18. - Horse Portraits
Faerietale Farm Reality
Procedures & Prices

---
This page hosted by Tripod - Free home Pages