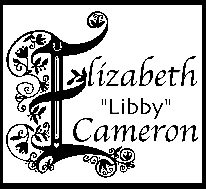 Commissioned Art Work
Portrait Painter
None of this work can be copied without permission from
the Artist, Elizabeth Cameron. All work is copyrighted.

Contact horseart2@gmail.com
Hunting & Horses...

"Circling Game"
oil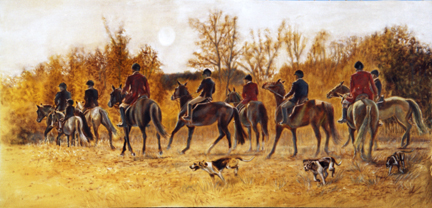 This painting was created from blending several photos
I took while watching the Mill Creek Hunt
in Wadsworth, Illinois. Fox are more likely to travel straight,
coyotes are known for clever games like circling back.


"Working Hounds"
pastel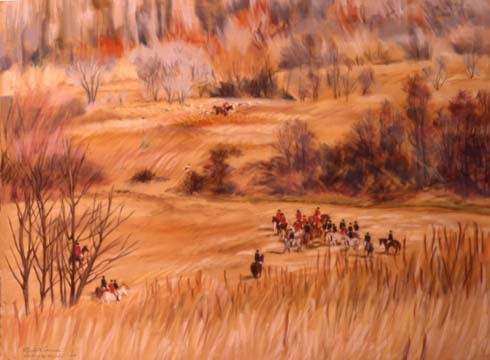 I liked the Oak Brook hunt territory in Illinois as it had
hills that gave a great overview of the action!

"Cold Day"
pastel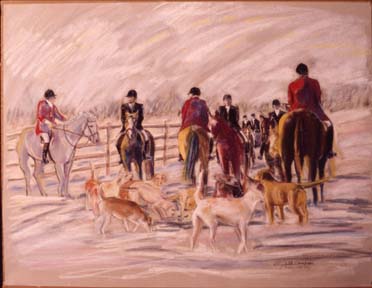 What fun to paint the colors against that snow
a departure from my realism that I enjoyed!

"King's Willow Pond"
pastel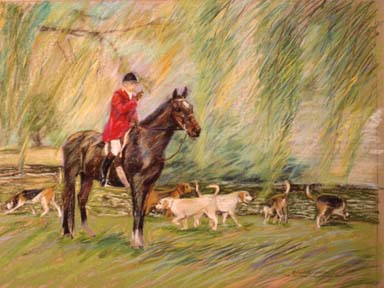 The Illinois hunts visited Racine once a year.
It was a pageant I greatly looked forward to.
Since I was a trail rider I had scouted out good photo
spots ahead of time for painting reference shots!

"Hounds Crossing"
pastel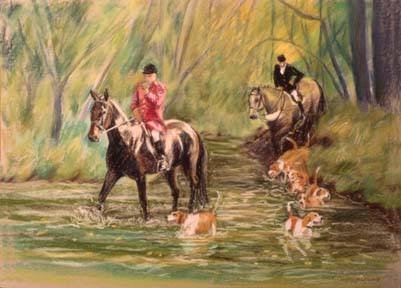 Fording the river in our southern riding area.

"God Rays"
oil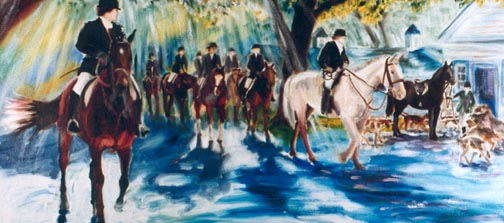 This has been one of my best selling limited edition
prints! It's set at the kennels of the Mill Creek Hunt,
in Wadsworth, Illinois.

"University Of Vermont Morgan Horse Farm"
oil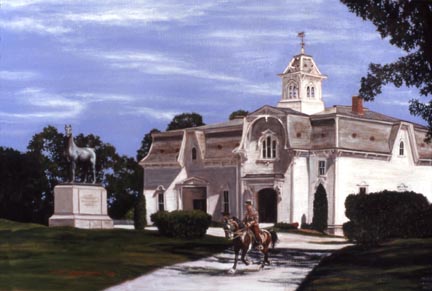 Quite a stable!

"Nora And Skeeter" for Dr. Nora Matthews, DVM
watercolor mixed-media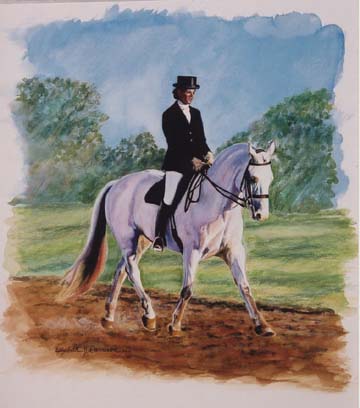 pDr. Matthews had seen my work on the cover of
The Chronicle of The Horse and called me.
I was delighted to get to paint her with her Appaloosa.

"Caesar" for Maggie and Dave Severino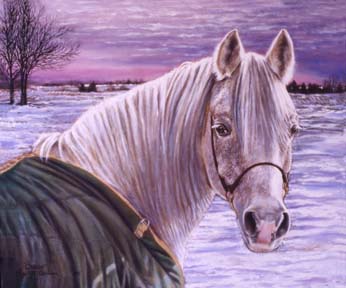 Caesar is so well cared for in the sunset of his life, that I
even included his blanket to represent that.
Once near death, this gentle soul was rescued
and enjoyed many many happy years.
Videos: How I Paint
The Love of Grays
2009 Paintings!
Paintings That Are For Sale
Corporate Casual
The Cameron Family Portraits
The Stier-Johnson Family
Artist Biography
Paintings From 2006!
...Continuing The Paintings From 2006!
Carriage Driving!
Paintings From 2004-2005
Foxhunt & Hound Series
More Progress In The Foxhunt & Hound Series
My cartoon books
Page 1. - Portraits
Page 2. - Portraits
Page 3. - Portraits
Page 4. - Portraits
Page 5. - Portraits
Page 6. - Portraits
Page 7. - Portraits
Page 8. - Dog Portraits
Page 9. - More Dog Portraits
Page 10. - Flower Paintings In Bloom
Page 11. - Dogs, Dogs & More Dogs!
Page 12. - Never Too Many Dogs!
Page 13. - Dogarama Spectacular!
Page 14. - Life With Horses
Page 15. - Hunting & Horses
Page 16. - Sibling & Scenics
Page 17. - Childhood Horses & Puppy Pix
Page 18. - Horse Portraits
Faerietale Farm Reality
Procedures & Prices

---
This page hosted by Tripod - Free home Pages