"Liza" for Marilyn Radtke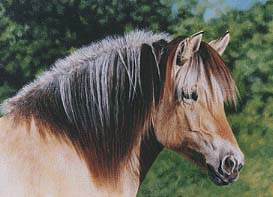 Liza is a Fijord pony whose mane was never trimmed like they traditionally do with Fijords. The result is a striped effect like a black and white candy cane mane when she runs, and a lovely dark frame for her eyes when she stands still.

"Green Tree Brigadier"(Morgan stallion, son of
Greentree Bonniejohn for Cece Green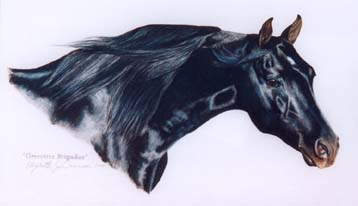 Beautiful Brig is Cece's current stallion.
She competes him in carriage driving.
One of the most thrilling rides of my life was
with Cece's daring and accurate reinsmanship in the
Colorado Rockies. What a horse!

"Greentree Bonniejohn" - Morgan Stallion for Cece Green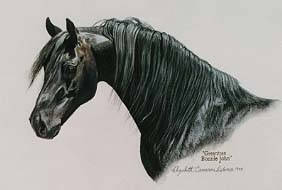 This was done from a photo of Bonniejohn as he leaned over the fence.
This was one of those portraits where no 'improvements' on nature were needed!

"Marge Cook & Designed by Jack" for Gene Cook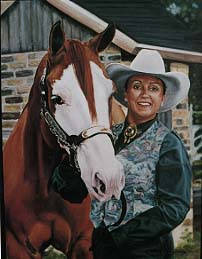 Marge & Gene win a lot of ribbons with their paint horses. We included the old farmstead
milkhouse in the portrait as it was such a nostalgic part of their farm.

"Christy Moore & Minnerva"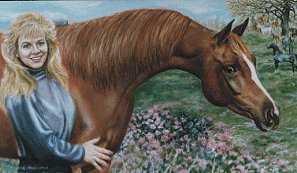 Christy was devoted to this mare, however the mare had valuable racing bloodlines and had to be sold to a shiek in England. This mare really took your breath away. One of her best features was her length of neck, and we chose a pose that accentuated that. Christy liked the idea of showing the mares offspring in the background.

"Connie & Orin Steinhaus"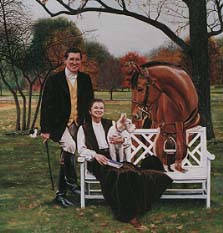 I met Connie & Orin Steinhaus while photographing a friend's first
fox hunt in Wayne,
Illinios. I 'built' this painting from 17 different reference photos. I loved the
way the composition turned out- very circular with echoing shapes.