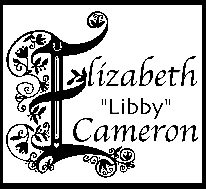 Commissioned Art Work
Portrait Painter
None of this work can be copied without permission from
the Artist, Elizabeth Cameron. All work is copyrighted.

Contact horseart2@gmail.com
Childhood Horses & Puppy Pix...

"Aspy"
watercolor mixed-media
Aspy was one of Pauline Jakubiec's 3 childhood horses.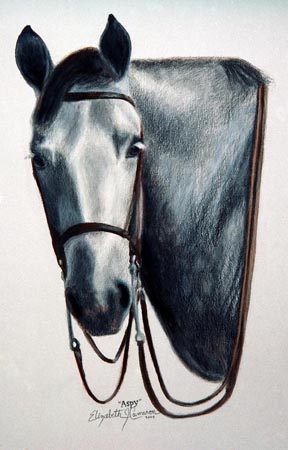 They made a wonderful set of paintings.
I created them from her old photos.

"Tom"
watercolor mixed-media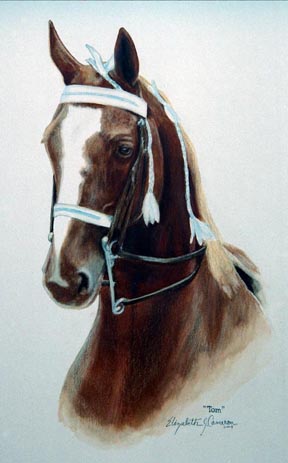 Pauline's Saddlebred.

"Charisma McCue"
watercolor mixed-media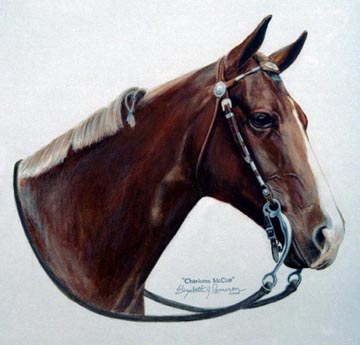 Pauline's Quarter Horse.

The reference pictures for Pauline's Three.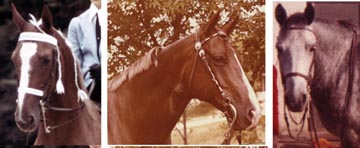 Pauline had photos with varying amounts of
detail but I was able to see enough
to paint from.

"Theo At 8 Weeks Old"
watercolor mixed-media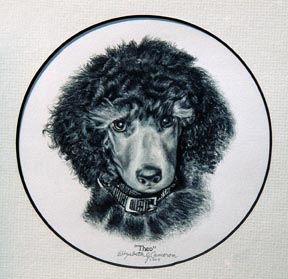 My silver standard poodle pup!
I hope to hang this near a grownup
oil of him when I get that done!

"Trooper"
watercolor mixed-media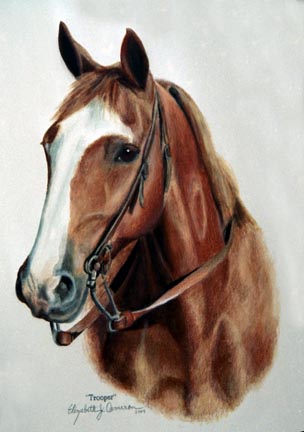 What a wonderful sister!
Kathy Hansen had this done from her old photos
for her brother of his childhood horse. It is a
birthday gift for him some twenty years later!

"Kathy Hansen, Dawn & Stoney"
oil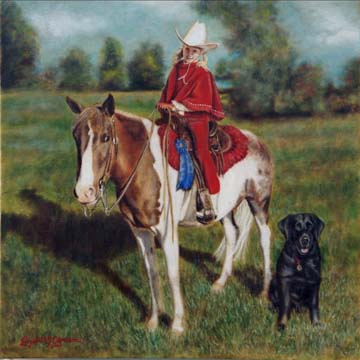 This was a fun idea!
Kathy had me paint this from old photos
of her childhood horse and dog. It is now a
delightful piece of art for her grownup home
as well as commemorating fond memories for her family!

The main photo I worked from.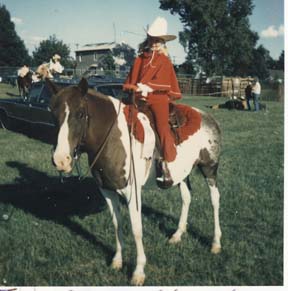 "Matthew & Emily Lovdahl"
oil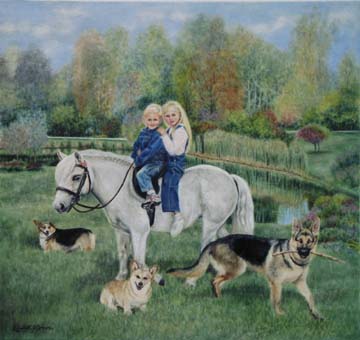 What a charming treasure!
The whole family will enjoy this
and some day it will be an heirloom too.
How great that Snowflake and many of the family
dogs are immortalized forever as well.


The main photo I shot to work from
oil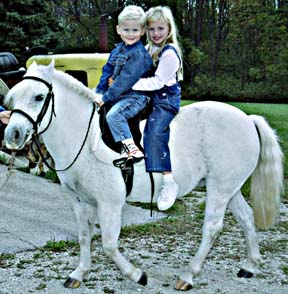 Videos: How I Paint
The Love of Grays
2009 Paintings!
Paintings That Are For Sale
Corporate Casual
The Cameron Family Portraits
The Stier-Johnson Family
Artist Biography
Paintings From 2006!
...Continuing Paintings From 2006!
Carriage Driving!
Paintings From 2004-2005
Foxhunt & Hound Series
More Progress In The Foxhunt & Hound Series
My cartoon books
Page 1. - Portraits
Page 2. - Portraits
Page 3. - Portraits
Page 4. - Portraits
Page 5. - Portraits
Page 6. - Portraits
Page 7. - Portraits
Page 8. - Dog Portraits
Page 9. - More Dog Portraits
Page 10. - Flower Paintings In Bloom
Page 11. - Dogs, Dogs & More Dogs!
Page 12. - Never Too Many Dogs!
Page 13. - Dogarama Spectacular!
Page 14. - Life With Horses
Page 15. - Hunting & Horses
Page 16. - Sibling & Scenics
Page 17. - Childhood Horses & Puppy Pix
Page 18. - Horse Portraits
Faerietale Farm Reality
Procedures & Prices

---
This page hosted by Tripod - Free home Pages