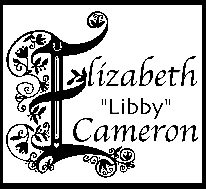 Commissioned Art Work
Portrait Painter
None of this work can be copied without permission from
the Artist, Elizabeth Cameron. All work is copyrighted.

Contact horseart2@gmail.com
These Were Painted In 2004...


"Clover"
oil
"Okeden Clover" is Fran Martin's Welsh Cob mare.
Fran foxhunts her with the Mill Creek Hunt
in Wadsworth, Illinois when Clover is not
busy with her broodmare duties.
Clover has had several beautiful foals
and is expecting in 2005!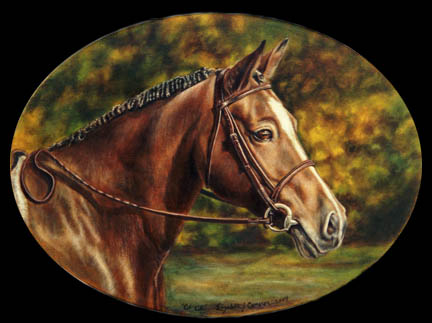 "Tyler Beyer"
(with Buddy, Stanley and Tapper)
watercolor mixed-media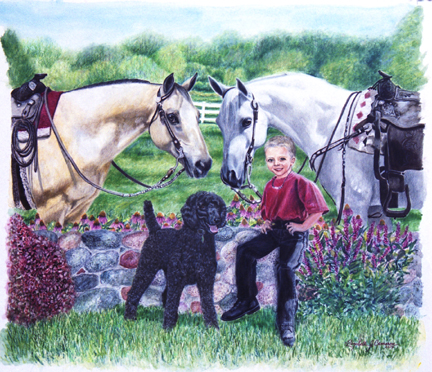 Dr. Tammy Beyer commissioned this scene
of her son as a surprise for her dad!
Her parents absolutely loved the painting.
Stanley is Tammy's prized white Arabian, and
Tapper is her father's horse. Buddy is
her father's young standard poodle.
Her brother-in-law framed my print of the painting
for Dr. Tammy's Beechwood Veterinary Clinic, and
also found a frame for the original that
matched the tooling on the saddles!
Tyler's new little brother Nathan arrived two days before
Christmas so soon another painting will be in the works!
Congratulations to the Beyers!

"Pauline Jakubiec with Mr. Ed & Dylan"
oil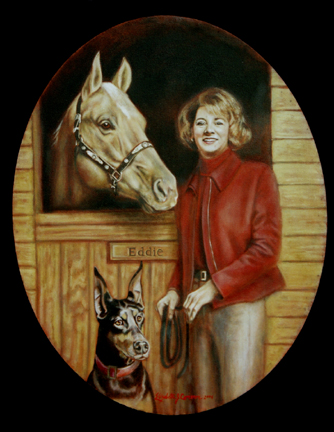 Everyone who sees this painting asks
WHO is that? Pauline just has a
great important presence about her!

"James Camacho & Kelly"
oil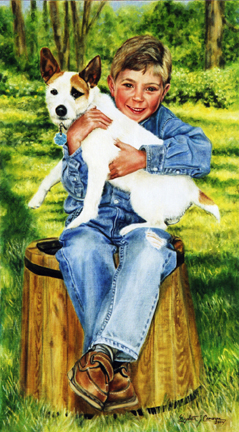 This was commissioned by James's mother Lisa
as a Christmas surprise for her husband, Don.
Lisa and Don own Windrose Arabians in Kenosha, Wisconsin.
I loved James's worn knee jeans and 'Ralph Lauren' look!
He and his dog had enough spunky personality
to really make the painting jump out at you!


These Were Painted in 2005...

"Five of Julie Heise's Morgan Stallions"
Watercolor Mixed Media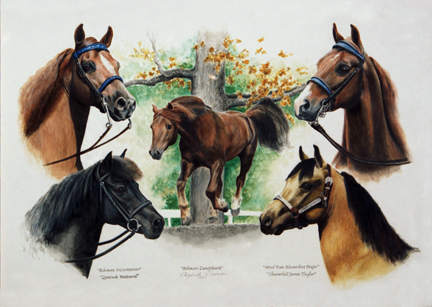 Julie Heise created my website.
Julie creates some awesome Morgans at
her Rosewater Farm too!

"Storm Coming"
oil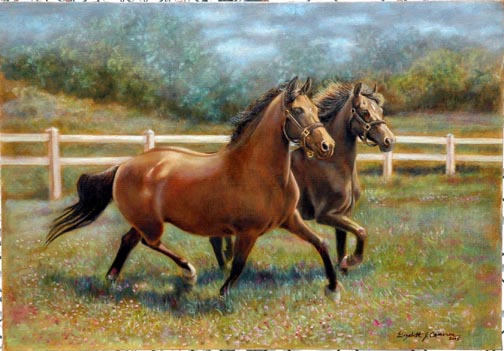 Marsha Valance's glorious Morgan mares are
"Andre Norton" and her daughter behind her "Tony Fennelly".
They were a beautiful sight running free and a bit stirred up
in a field near her barn.
Marsha Valance says:
"In 2004, watching my Morgan mares canter down the hillside at my call,
I decided I needed a painting of them. Of course, I called on Libby.
After she came and shot several rolls of film, the cantering painting
morphed into a beautiful oil of them trotting side by side through
the meadowgrass. Libby's wonderful talent captured every nuance--
the beautiful bronze tone Andy's coat turns in the summer,
Tony's level knee, the meadow flowers beneath the darkening sky--
creating a treasured heirloom-to-be for my family!"


"Mrs. Lura & Nina"
oil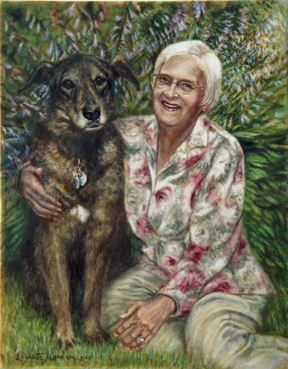 This was commissioned by Mrs. Lura's son, Mark.
I really enjoyed painting the bond
Mrs. Lura has with her dog, Nina.
I loved her flowered blouse and the Hosta plants
in their yard made a perfect natural setting.
I also wanted to pose her hands to include her beautiful
wedding ring. What a lovely family heirloom.


Val Lura wrote:
"When my brother commissioned a painting of my mother
and her beloved dog, Nina, I wondered what all the
fuss was about. After all, she already had several
lovely photographs of Nina. However, after viewing
the completed oil painting I become a believer in
the beauty and uniqueness of paintings. Every hair on
Nina seemed to be captured in the painting right down to
the expression on her face. It is exquisite.
The painting holds pride of place next to my mom's
favorite chair. When my brother offered me the same
opportunity, I jumped at the chance to have my first
little Elkhound puppy, Chance, painted in a small
watercolor. He turned out beautifully, as well, and
now hangs on the wall opposite my bed where he
watches over me while I sleep."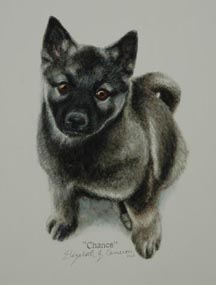 "Shadrack"
watercolor mixed-media
for Mark Lura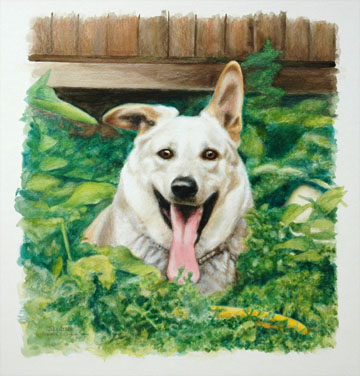 This was Mark's beloved dog with the
world's longest pink tongue!
Note this happy dog's favorite yellow frisbee too!
Part of the wonderful fun of what I do
is getting to meet other great animal lovers.
This beautiful white German Shepard is the first
in a series of his family's dogs that Mark is having me paint.
His sister Val's Elkhound is next in the line up!

Mark wrote:
"I only had one photo of Shadrack so I feared there would
not be sufficient perspectives for Libby to do him justice.
However, we worked closely with the painting as it evolved and
he just came alive. She got the ears just right and that was vital
as that was his feature which everyone commented on
when he was alive. A real tribute to a fabulous Best Friend."


"Clare Heckert"
oil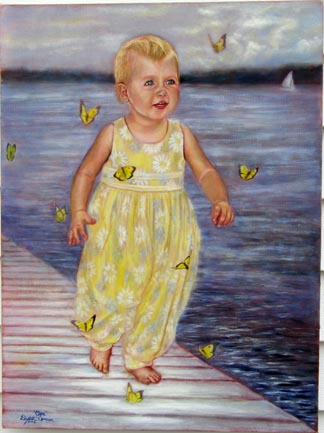 This was commissioned by Clare's mother, Margaret.
It is interesting how similar her natural pose was
to her older sister Meredith's portrait!
She is shown on the dock near their Lake Geneva home.
I loved the colors and the imaginary moment of
her childish delight in running through a flock of butterflies.



"Roy-el's Faerietale In Spring "
Experiment in acrylic on canvas using
my oil layering techniques...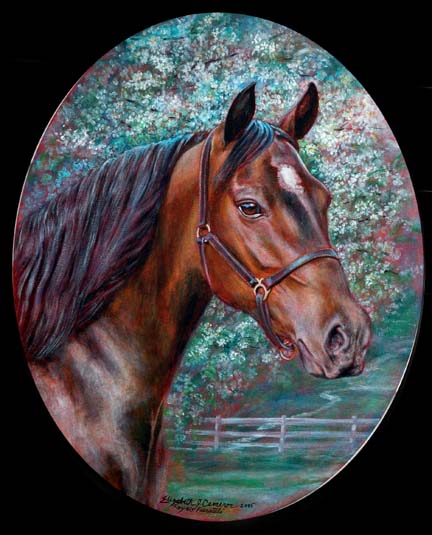 My Morgan mare, Faerie.
The Spring pear tree
blossoms remind me of
something Japanese...


"Berrit at age 15 "
watercolor mixed-media technique

Berrit was the much loved Norwegian
Elkhound who was lucky enough to live with
Barb & Dick Budny. They had me paint her
with their guy Tugger when she was a year and a half old.
Then they brought her back at age 15 for another
portrait when age had so beautifully etched her face.
Ah that we could all be as well-loved as the Budny's Elkies!


"Tugger & Berrit"
watercolor-mixed media technique done about 1992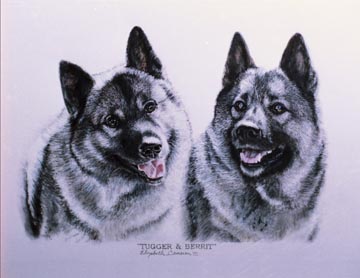 The young Tugger and Berrit.


Do you have friends & family who care
about their loved ones like you do?
Please let them know how I can be of service.
Your referrals are my highest compliment!
Thank you.


Videos: How I Paint
2009 Paintings!
Paintings That Are For Sale
Corporate Casual
The Cameron Family Portraits
The Stier-Johnson Family
Artist Biography
Paintings From 2006!
...Continuing The Paintings From 2006!
Carriage Driving!
Paintings From 2004-2005
Foxhunt & Hound Series
More Progress In The Foxhunt & Hound Series
My cartoon books
Page 1. - Portraits
Page 2. - Portraits
Page 3. - Portraits
Page 4. - Portraits
Page 5. - Portraits
Page 6. - Portraits
Page 7. - Portraits
Page 8. - Dog Portraits
Page 9. - More Dog Portraits
Page 10. - Flower Paintings In Bloom
Page 11. - Dogs, Dogs & More Dogs!
Page 12. - Never Too Many Dogs!
Page 13. - Dogarama Spectacular!
Page 14. - Life With Horses
Page 15. - Hunting & Horses
Page 16. - Sibling & Scenics
Page 17. - Childhood Horses & Puppy Pix
Page 18. - Horse Portraits
Faerietale Farm Reality
Procedures & Prices

---
This page hosted by Tripod - Free home Pages