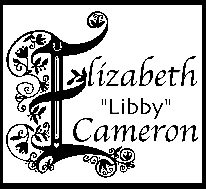 Commissioned Art Work
Portrait Painter
None of this work is to be copied without permission from
the Artist, Elizabeth Cameron. All work is copyrighted.

Contact horseart2@gmail.com
More Progress in the Fox Hunt & Hound Series...These paintings are the result of my
love of the aesthetics of horses and hounds.
They were created from photos I took while watching various hunts.

I could not resist these additional images!
Inquires about purchasing the originals are welcome.
I thought about having a show when the series was finished,
but they are leaving the studio almost as fast as I can paint!
All the finished images will be available in my limited edition giclee prints.


"Hounds As Koi"
acrylic on canvas, original 30"h x 48w"

The beginning stages of a painting.
Watching the hounds cool off in the lake reminded
me of a swirl of multicolored koi fishes...


"The Ditch"
acrylic on canvas, original 30"h x 36w"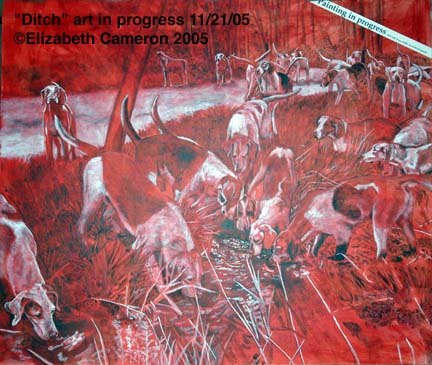 Progress at the start, but a complex composition!


"Pearly Gates"
acrylic on archival panel, original 11"h x 14w"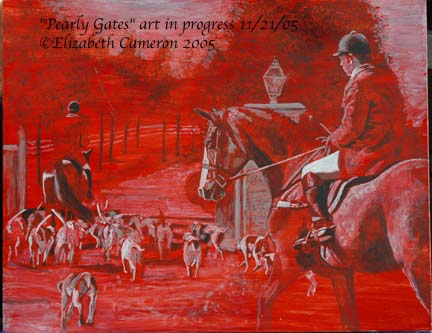 A strong image for such a little painting.
I imagine heaven would have to include hounds and horses!
Work in progress above, finished artwork below.


Original available for sale.
Please email inquiry to horseart2@gmail.com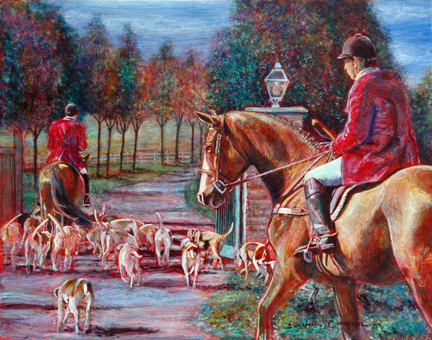 "The Biscuit Apron" SOLD!
This painting was also selected as a
cover for The Chronicle of the Horse magazine!
acrylic on canvas, original 18"h x 24w"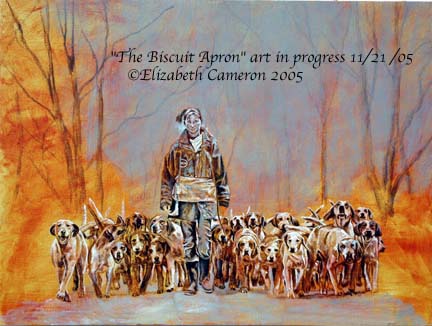 This painting was such fun to create!
I used a warmer gold imprimatura undertone.
I love the confident stride of young Emily!
The hounds obviously do too!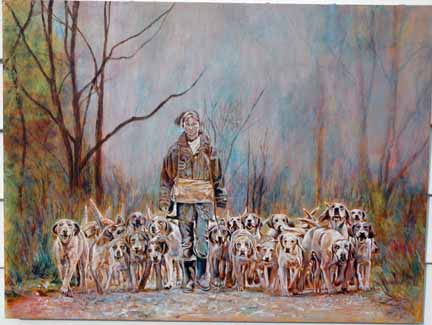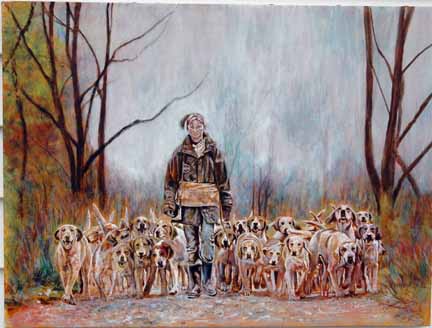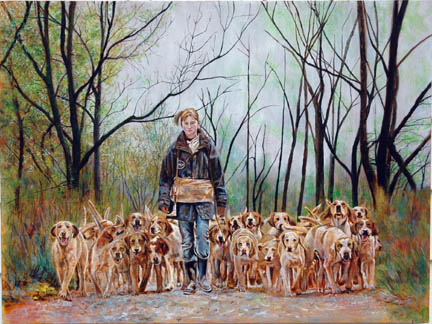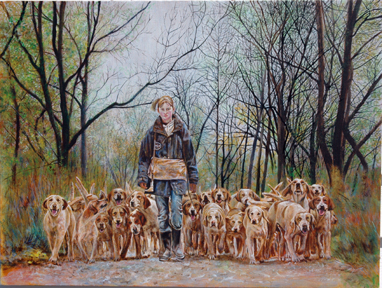 That's "Bella" looking up so adoringly at left.
She was a pup that Emily's family had whelped.
At the portrait presentation Emily could instantly
point to and name every hound in here! She is very devoted
to the hounds and often helps out on the Huntsman's day off.
With hunt crop draped over her shoulder
and pony tail swinging she is a pied piper!


Do you have friends & family who care
about their loved ones like you do?
Please let them know how I can be of service.
Your referrals are my highest compliment!
Thank you.


Videos: How I Paint
The Love of Grays
2009 Paintings!
Paintings That Are For Sale
Corporate Casual
The Cameron Family Portraits
The Stier-Johnson Family
Artist Biography
Paintings From 2006!
...Continuing The Paintings From 2006!
Carriage Driving!
Paintings From 2004-2005
Foxhunt & Hound Series
More Progress In The Foxhunt & Hound Series
My cartoon books
Page 1. - Portraits
Page 2. - Portraits
Page 3. - Portraits
Page 4. - Portraits
Page 5. - Portraits
Page 6. - Portraits
Page 7. - Portraits
Page 8. - Dog Portraits
Page 9. - More Dog Portraits
Page 10. - Flower Paintings In Bloom
Page 11. - Dogs, Dogs & More Dogs!
Page 12. - Never Too Many Dogs!
Page 13. - Dogarama Spectacular!
Page 14. - Life With Horses
Page 15. - Hunting & Horses
Page 16. - Sibling & Scenics
Page 17. - Childhood Horses & Puppy Pix
Page 18. - Horse Portraits
Faerietale Farm Reality
Procedures & Prices

---
This page hosted by Tripod - Free home Pages