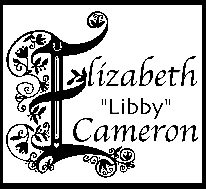 Commissioned Art Work
Portrait Painter
None of this work can be copied without permission from
the Artist, Elizabeth Cameron. All work is copyrighted.

Contact horseart2@gmail.com
...The Newest Paintings!


"Cookie"
watercolor with colored pencil combination

"I See You Lookin At Me" is Kathy Hansen's
lovely mare. This was done as part of a set.


"Hunter"
watercolor with colored pencil combination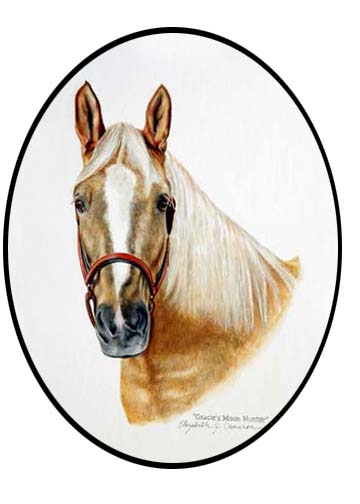 "Gracie's Moon Hunter" is Kathy Hansen's
palamino. Kathy first had me do a painting of
her childhood horse "Trooper", and then decided
it would be great fun to have a set of head studies
of all her horses!

"Kyra"
acrylic on canvas
12x15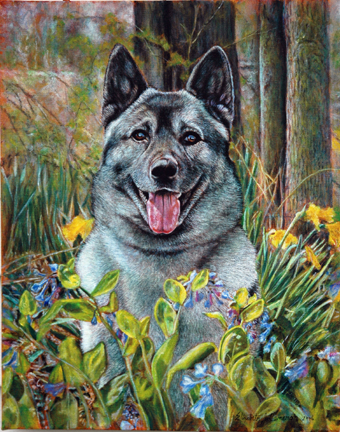 An enchanting Norwegian Elkhound
painted for her owner Sally Prescher.
I loved the way she popped up out of my daffodils
when Sally brought her here for her reference photos!

"Bucky"
(Heelside's Crimson Buckaroo)
acrylic on canvas
14x18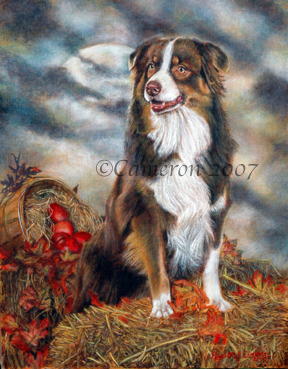 Full of personality, this red tri-color Australian Shepherd
was painted for his owners Barb & Dick Budny
(as Dick's birthday surprise from Barb!).
Bucky was a special needs adoption born at only 7 ounces,
with a cleft palette that required surgery and special care.
After such a rough start he sure got a dream home
with belonging to the Budnys!
His portrait was done at 15 months old.

"Jiggie"
(for owner Susie Mackie )
watercolor mixed media
10x15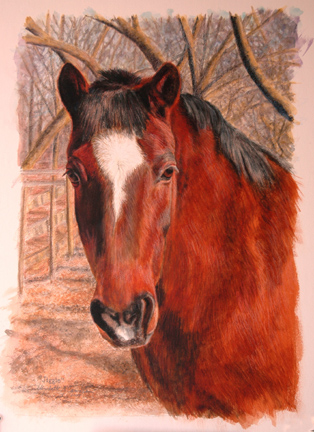 Jiggie is one lucky horse. He has spent so much of his
life with devoted owner Susie! The special photo that I
worked from was taken by the late Dr. David Sherman
and it was key in being able to create this painting.
Dr. Sherman's wife Eileen's magnificent care given at their
Hidden View Farm in Mequon, Wi. is one of the reasons Jiggie is still with us.
Susie especially liked the pose as it showed Jiggies' impish expression in his eyes,
and she noted that the path and trees echoed his coloring.
His registered name is Country Jig and he is from the Trian Connemara Line.
He turns 30 in July and is still being ridden 2 - 3 times a week when the ground is soft.
He completed 20 Hunter Pace events amongst years of fox hunting,
some endurance events, and some event trials.
(The show ring was not his Mom's thing.)
Jiggie is quite unique in that he does visiting companion and pet therapy visits,
going to nursing homes and children's centers to cheer
the sick, lonely and troubled.

Susie said: "Libby has been a friend for years and I've always been taken by her work;
she's the most magnificent animal artist in the country!
It was time for Jig to have his portrait done and placed in a space
reserved just for him in my Hunt Room."
Susie said it's something she would have had done in any event, but
she was extra glad she did it while Jiggie is still with us so the
entire experience was a totally happy and exciting one!

"Annette and Gene"
(for daughter Janel Quinn)
acrylic on canvas
16x22



This was fun to do! I had not met Janel's mother and stepfather
but from Janel's descriptions, I felt like I knew them and that
helped to show their warm personalities in the painting.
I loved how at ease they were with their pet Macaw! It was Janel's
idea to show them on their boat and have the names of their two previous boats
in the background. I added a third boat and put Janel's name on it!
I first met Janel when she asked me to paint her late father.
She displayed the portrait at her wedding and said
she loves seeing the painting every day.
This recent painting was a surprise for Gene's 80th birthday.


"Cedar Creek Elegance"
(for Mary Ellen Gray from her friends
Marsha Valance & Carol Pasbrig)
watercolor mixed media
6 inch circle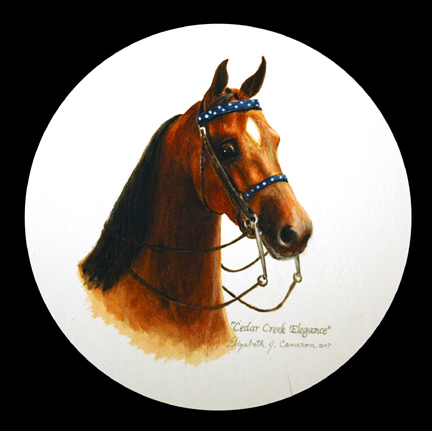 When Mary Ellen lost her beloved Morgan mare, her friends
Carol & Marsha sprang into action. Marsha brought me
several photos and we choose the best to work from.
They had the painting framed and gave it to
Mary Ellen as a total Christmas surprise.
"Ellie" was a great broodmare and fantastic show mare.
She was the grand-dam of two of Marsha's horses,
and Marsha pointed out that Ellie's eye had to have
a certain look. Despite the tiny photo I worked from,
I was told that Mary Ellen absolutely loved it,
and we "got it right"! I'd say sharing such a
good friendship and love of Morgan horses, they
definitely got it "right" as well!

"Erin Gray"
(for Keith and Debbie Gray)
oil
14 x 18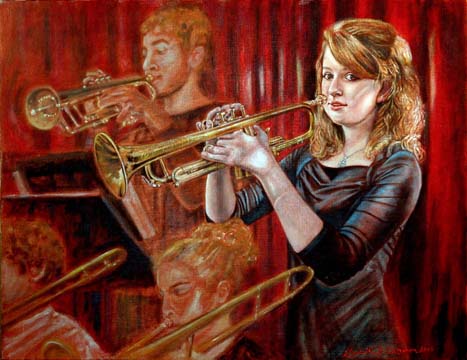 "Erin Gray closeup"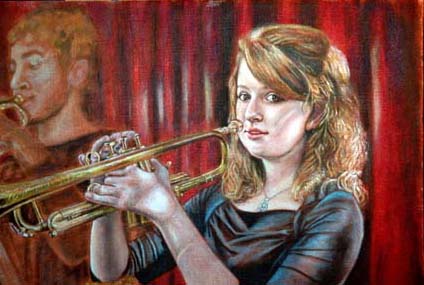 Beautiful Erin is not only an excellent equestrian, she plays the
trumpet for the Midwest Young Artists. Erin and her sister Emily
went on tour with that group to perform in China!
(The Grays are a family of many accomplishments and interests.
I painted Emily in "The Biscuit Apron" as she walked excercising
30 foxhounds in 2006.) Erin's dad, Keith, is a creative man
and he knew he did not want a "straight portrait" of Erin.
I also wanted it to be as strong as Emily's, but
unique for Erin. I love it that she is wearing her
grandmother's pendant.

Keith had the idea to show Erin in a band setting, but asked that
I keep the high focus on Erin. I photographed her outdoors where the
sun sparkled on her hair and then pretended that was the effect
of a stage spotlight. It was challenging to find a moment that
did not look posed, and yet I did not want her face distorted by
the actual effort of lips on trumpet. It worked out perfectly
that Erin gave a glance our way before resuming her music.

Erin's is actually a sample portrait as Keith and Debbie donated a "blank canvas"
to the highest bidder at Midwest Young Artist's fundraising auction.
Thanks to their generosity, the MYA has a custom fund raising offering,
and I will have the delight of creating an heirloom portrait for another young musician!


Do you have friends & family who care
about their loved ones like you do?
Please let them know how I can be of service.
Your referrals are my best compliment!
Thank you.


Videos: How I Paint
The Love of Grays
2009 Paintings!
Paintings That Are For Sale
Corporate Casual
The Stier-Johnson Family
The Cameron Family Portraits
Artist Biography
Paintings That Are For Sale
... The Newest Paintings!
Carriage Driving!
Recent Paintings From 2004-2005
Foxhunt & Hound Series
More Progress In The Foxhunt & Hound Series
My cartoon books
Page 1. - Portraits
Page 2. - Portraits
Page 3. - Portraits
Page 4. - Portraits
Page 5. - Portraits
Page 6. - Portraits
Page 7. - Portraits
Page 8. - Dog Portraits
Page 9. - More Dog Portraits
Page 10. - Flower Paintings In Bloom
Page 11. - Dogs, Dogs & More Dogs!
Page 12. - Never Too Many Dogs!
Page 13. - Dogarama Spectacular!
Page 14. - Life With Horses
Page 15. - Hunting & Horses
Page 16. - Sibling & Scenics
Page 17. - Childhood Horses & Puppy Pix
Page 18. - Horse Portraits
Faerietale Farm Reality
Procedures & Prices

---
This page hosted by Tripod - Free home Pages