"The Artist & her horse, Roy-el's Faerietale"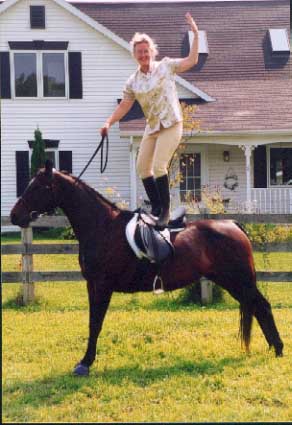 Yes I really ride too! Luckily for this fun
photo Faerie will do anything for sugar!


"Katie Camacho & Azzona"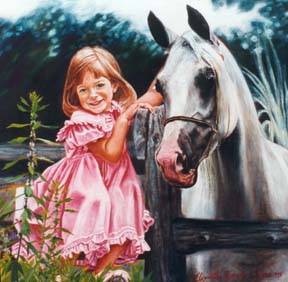 Katie was just two years old when I did her
portrait. She even kept the surprise a secret
for her dad until Christmas! Azzona was
her dad's first horse.


"Lauren Dobbins & Jazzy"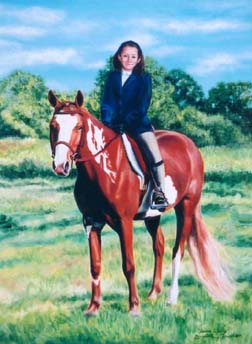 Lauren is well known already on the Illinois
hunter/jumper show circuit. It's like
cheating to have such cute subjects to paint!



"Annie Morgan & Willie" for Bob and Jane Morgan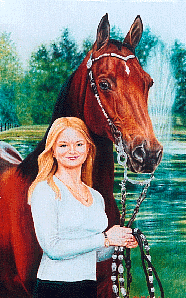 This was a portrait for Annie's grandfather, given
as a retirement surprise by American Reinsurance Company,
since they knew how much his grandaughter and his horses
mean to him!


Adrian Egolf & Roy-El's Sultan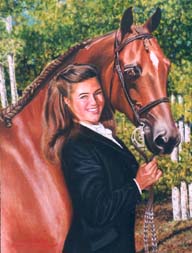 This was a surprise for Adrian from her stepmother,
Rosemary Egolf. I worked from several of
Rosemary's photos, so Adrian had no idea!


"bob, Matt & Jack Be Nimble" for Mrs. Carol Wilkinson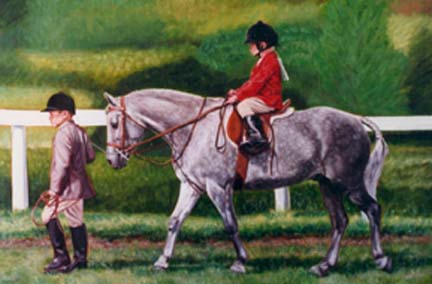 Oil 18 x 24 was done from a photograph the boys mother had
saved for 23 years. The boys had beaten some stiff competition
in this class! Carol said she'd been looking for the right artist
to do the painting she had in mind for many years.
She saw my work in The Western Horseman magazine and called me.