"Rachel & Cenny" - For Irina Hamlin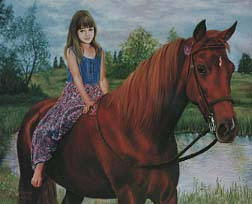 Irina sent many photos of her lovely daughter, but there was one of her face in
particular that we loved. Rachel's expression gave the painting a fairytale quality.

Photos I worked from for Rachel & Cenny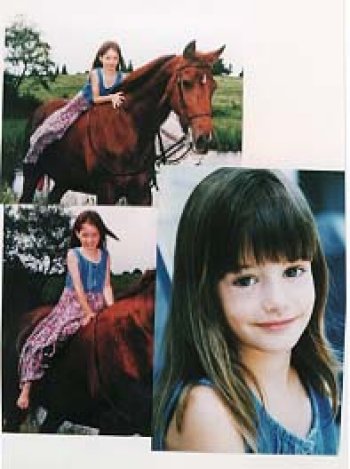 "My niece, Emma"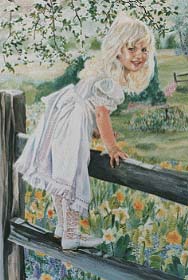 Emma's mother loves to garden, so the backyard of their first home was a memorable setting.

"Rebecca & Cedar Creek Mikado" - For Rebecca Marano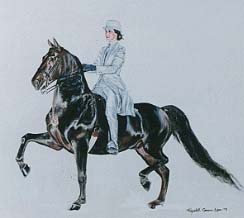 Rebecca had leased "Mo", but did not have a photo of herself riding him. She sent me some
wonderfully detailed photos, and I was able to create the painting she had in mind.
She is an artist herself, but had me do her portrait as she likes how I paint people.

"Erlene Seybold & Roy-El's Carlita"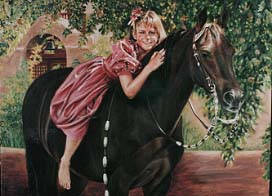 Erlene chose the dress she'd worn for a wedding in England.
She even painted her toenails to match! I included
the lovely old arched doorway on her grandmother's ranch.

"Acorn & Josie for Sharon Makurat"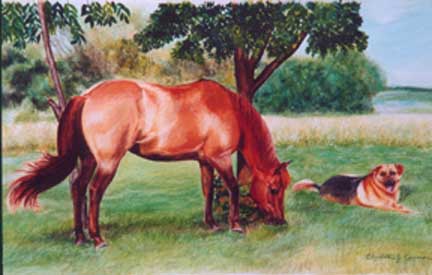 This was just supposed to be the pony's portrait, but I
couldn't resist adding the lovely dog. Josie
died shortly after I took my reference photos,
so Sharon was thrilled to have her included.

Videos: How I Paint
The Love of Grays
2009 Paintings!
Paintings That Are For Sale
Corporate Casual
The Stier-Johnson Family
The Cameron Family Portraits
Artist Biography
Paintings That Are For Sale
...Continuing The Paintings From 2006!
Carriage Driving!
Paintings From 2004-2005
Foxhunt & Hound Series
More Progress In The Foxhunt & Hound Series
My cartoon books
Page 1. - Portraits
Page 2. - Portraits
Page 3. - Portraits
Page 4. - Portraits
Page 5. - Portraits
Page 6. - Portraits
Page 7. - Portraits
Page 8. - Dog Portraits
Page 9. - More Dog Portraits
Page 10. - Flower Paintings In Bloom
Page 11. - Dogs, Dogs & More Dogs!
Page 12. - Never Too Many Dogs!
Page 13. - Dogarama Spectacular!
Page 14. - Life With Horses
Page 15. - Hunting & Horses
Page 16. - Sibling & Scenics
Page 17. - Childhood Horses & Puppy Pix
Page 18. - Horse Portraits
Faerietale Farm Reality
Procedures & Prices


---
This page hosted by: Tripod - Free Home Page