"Nikki Keland on Fijord"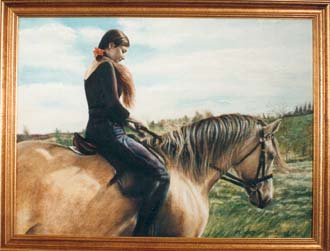 This was based on a great old photo by Nikki's longtime boyfriend
John Krewal. I added the flower and boots and
some other artistic touches.

"Wendy McCalvy & Mort"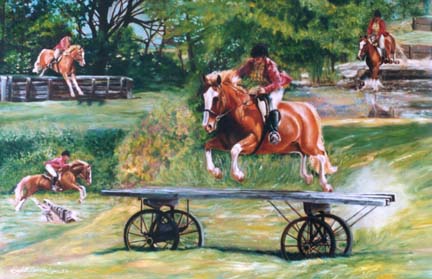 This shows Wendy with her bold jumping style
and her steady pal of many years
in several of her favorite places
on her cross country course.

"Katrina Wood & Harry"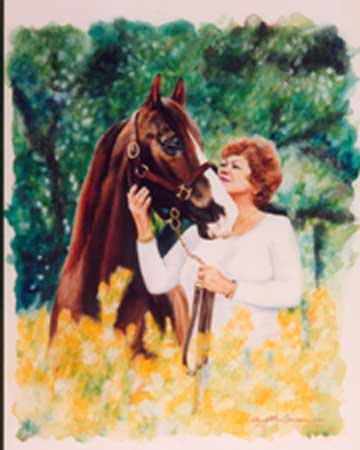 This was Katrina's favorite young stallion.
This pair of portraits was an anniversary
gift to each other.

"Krenton Wood & Little Harriet"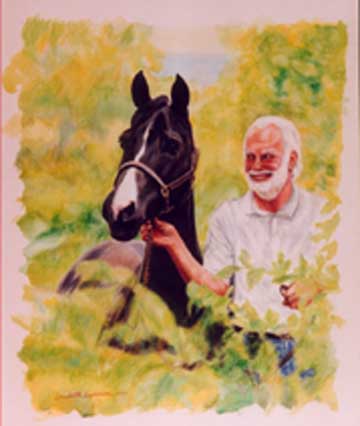 This was Kenton's favorite mare. Katrina
and Kenton raise Morgan horses.

"Pirate, Roo & Ritz for Greg and Jenny Berg"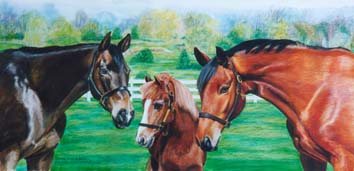 This was a total surprise for Jenny commissioned as a
birthday gift from her thoughtful husband, Greg!


Videos: How I Paint
The Love of Grays
2009 Paintings!
Paintings That Are For Sale
Corporate Casual
The Stier-Johnson Family
The Cameron Family Portraits
Artist Biography
Paintings From 2006!
...Continuing The Paintings From 2006!
Carriage Driving!
Paintings From 2004-2005
Foxhunt & Hound Series
More Progress In The Foxhunt & Hound Series
My cartoon books
Page 1. - Portraits
Page 2. - Portraits
Page 3. - Portraits
Page 4. - Portraits
Page 5. - Portraits
Page 6. - Portraits
Page 7. - Portraits
Page 8. - Dog Portraits
Page 9. - More Dog Portraits
Page 10. - Flower Paintings In Bloom
Page 11. - Dogs, Dogs & More Dogs!
Page 12. - Never Too Many Dogs!
Page 13. - Dogarama Spectacular!
Page 14. - Life With Horses
Page 15. - Hunting & Horses
Page 16. - Sibling & Scenics
Page 17. - Childhood Horses & Puppy Pix
Page 18. - Horse Portraits
Faerietale Farm Reality
Procedures & Prices


---
This page hosted by: Tripod - Free Home Page