"BANDIT" for Valerie DeVries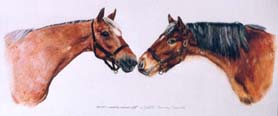 Bandit looked like a different horse in his winter
coat and Val couldn't decide when he was cuter. So I
painted him as if he was meeting his summer self!

Valerie says:
"There are times when Bandit seems like two different horses,
not just in temperament but in looks.
The meekness of the cold winter months gives way
to the high spirits of spring, just as his
red coat of winter roans out to the white of summer.
In a single painting, Libby was able to capture
these differences. Everytime I look at it, I realize how lucky I am
to have a companion who is so unique, and so beautiful."


"UC Balladeer" for Liz Reitz and family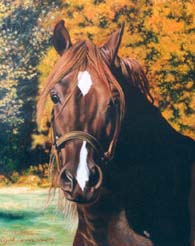 "Laddie" was a beloved Morgan horse who gave
many happy years to his dear family. I used a
glaze to bring his coat to the rich color it had
been in his youth.

"Expresso" for Dr. Alice Marold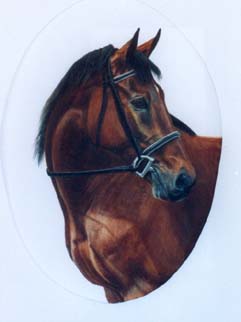 I loved the curve of this horse's neck!
I have done several portraits for Dr. Marold.
This one appeared on the cover of The Chronicle of the Horse.

"Stetsa" for Debbie Honstein Seybold
Stetsa was international Morgan judge Debbie's first
Morgan and she remembers him fondly. This is a small
watercolor mixed-media about 10" high.

"Tash" for Cheryl Mullett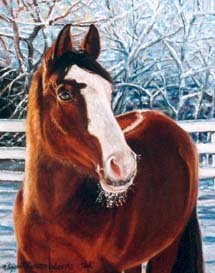 Cheryl has an artistic soul and her favorite memory with
her horse was in finding icicles on the mare's whiskers.
It made for a unique portrait that was featured
in The Western Horseman magazine.

"Butter" for Ilsa Hilpert-Bruner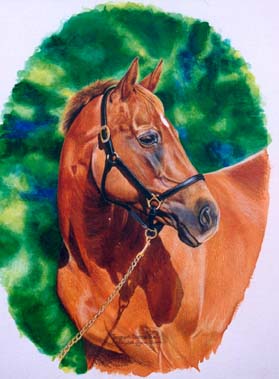 Butter is Ilsa's dear quarter horse with the
unlikely formal name of Seargant Donna Sue.
The nickname Butter better captures the warmth of her spirit!

"Jackie" for Wendy McCalvy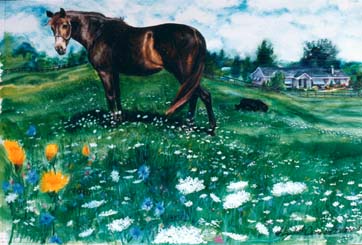 Wendy wanted a casual pose to remember her first mare.
The best moment came as Wendy left the pasture
and Jackie looked after her.

Videos: How I Paint
The Love of Grays
2009 Paintings!
Paintings That Are For Sale
Corporate Casual
The Stier-Johnson Family
The Cameron Family Portraits
Artist Biography
Paintings From 2006!
...Continuing The Paintings From 2006!
Carriage Driving!
Paintings From 2004-2005
Foxhunt & Hound Series
More Progress In The Foxhunt & Hound Series
My cartoon books
Page 1. - Portraits
Page 2. - Portraits
Page 3. - Portraits
Page 4. - Portraits
Page 5. - Portraits
Page 6. - Portraits
Page 7. - Portraits
Page 8. - Dog Portraits
Page 9. - More Dog Portraits
Page 10. - Flower Paintings In Bloom
Page 11. - Dogs, Dogs & More Dogs!
Page 12. - Never Too Many Dogs!
Page 13. - Dogarama Spectacular!
Page 14. - Life With Horses
Page 15. - Hunting & Horses
Page 16. - Sibling & Scenics
Page 17. - Childhood Horses & Puppy Pix
Page 18. - Horse Portraits
Faerietale Farm Reality
Procedures & Prices


---
This page hosted by: Tripod - Free Home Page