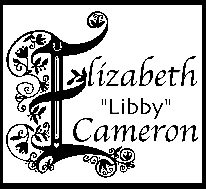 Commissioned Art Work
Portrait Painter
None of this work can be copied without permission from
the Artist, Elizabeth Cameron. All work is copyrighted.
Contact horseart2@gmail.com
More dogs!


Skye Johnson's Cloud Dogs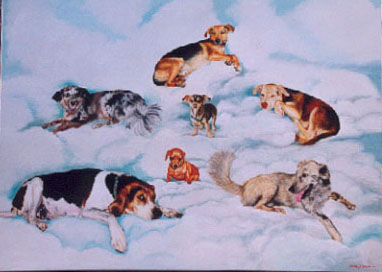 Every dog should be so lucky!
Belonging to Skye is like going to
doggie heaven early!
Oil 4' x 5'.

"Skye's Ten Cloud Dogs!"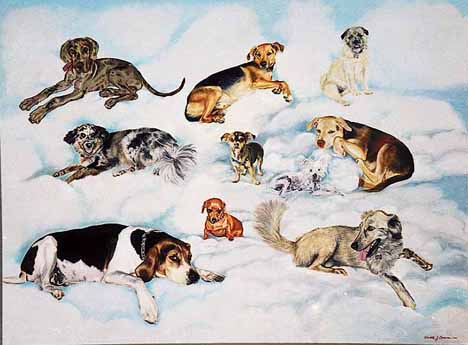 Opps! Skye got three more dogs!
I had to hurry up and add the Great
Dane puppy before she outgrew her cloud!
Oil 4' x 5'.

"Brent Ryan's Doxies"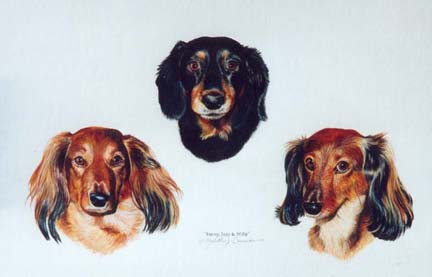 Brent sold me my wonderful Morton barn.
When he was here he saw my studio,
and asked me to paint his adorable dogs
as a Christmas surprise for his wife.
Watercolor mixed-media.

"Shadow" for Sally Prescher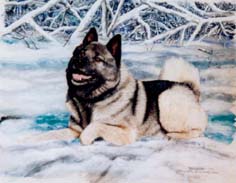 Watercolor mixed-media.
Sally had this framed in the neatest way.
She had Shadow place an ink paw print
in a little cut out area designed for it on the mat!

"Ellie Mae" for Christy & Tres Moore
oil 18 x 24.

"Corky & Nattie" for Stephanie Marcus
These two are the best of friends.
Nattie was quite the glamour girl with
her crossed paws pose! Yes their coloring
was an artistic challenge but enjoyable!

"Peter Martin & his racehorse Man O' Peace"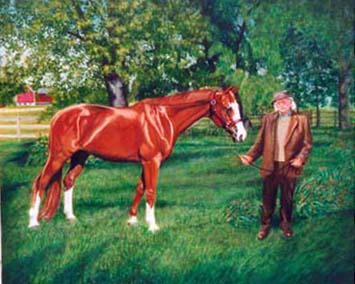 Why is this on the dog page? I will be adding
their Bernese puppy as soon as she's grown up enough!
Oil 18 x 24.

"Peter Martin & Kubly & Man O' Peace"
(and his parrot?!)

There is Kubly in all her glory!
But you'll have to ask Fran about
the parrot on Pete's shoulder!
(This shot is actually more true in color to the original.)

"Libby's Easter Poodle..."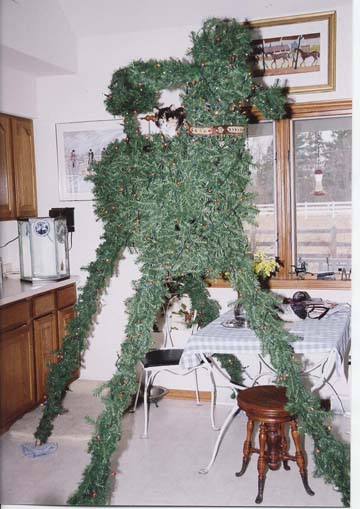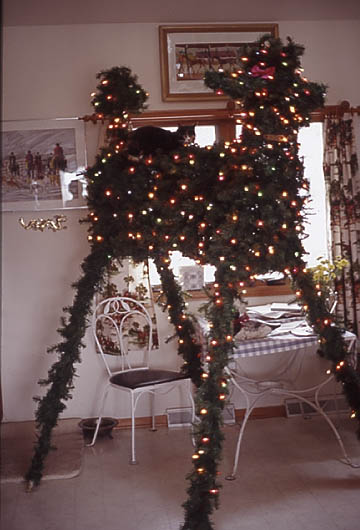 This is what happened when I had a two day power surge of creative
energy, a wire cutters and an old fake Christmas tree!
Sure some diginified artists hear the call of the wild,
or the call of the wolf...
Me, I get to hear the howl of the pine dog!
Unfortunately the pale photo doesn't show the twinkley lights,
but if you look closely you can see Miss Kitty likes his back!
And no, I don't know how I will be getting
this 8 foot tall poodle out of the kitchen...


Videos: How I Paint
The Love of Grays
2009 Paintings!
Paintings That Are For Sale
Corporate Casual
The Stier-Johnson Family
The Cameron Family Portraits
Artist Biography
Paintings From 2006!
...Continuing The Paintings From 2006!
Carriage Driving!
Paintings From 2004-2005
Foxhunt & Hound Series
More Progress In The Foxhunt & Hound Series
My cartoon books
Page 1. - Portraits
Page 2. - Portraits
Page 3. - Portraits
Page 4. - Portraits
Page 5. - Portraits
Page 6. - Portraits
Page 7. - Portraits
Page 8. - Dog Portraits
Page 9. - More Dog Portraits
Page 10. - Flower Paintings In Bloom
Page 11. - Dogs, Dogs & More Dogs!
Page 12. - Never Too Many Dogs!
Page 13. - Dogarama Spectacular!
Page 14. - Life With Horses
Page 15. - Hunting & Horses
Page 16. - Sibling & Scenics
Page 17. - Childhood Horses & Puppy Pix
Page 18. - Horse Portraits
Faerietale Farm Reality
Procedures & Prices

---
This page hosted by Tripod - Free home Pages