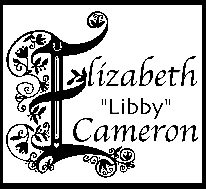 Commissioned Art Work
Portrait Painter

None of this work can be copied without permission from
the Artist, Elizabeth Cameron. All work is copyrighted.

Contact horseart2@gmail.com
When I'm not painting animals, or drawing cartoon books of dogs, I paint flowers...

"Purple Reign Clematis"

"At Your Feet"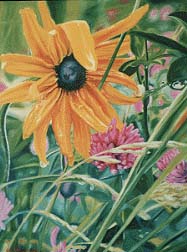 Closeup detail of "At Your Feet"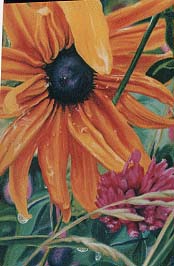 "Pink Lady"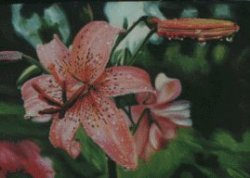 "Sunflower butterfly"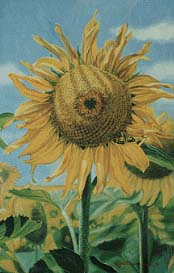 "Faerie thistle"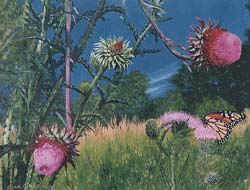 Owned by Elberta Honstein
This was commissioned by my sister Julie Cameron,
with a directive to simply paint her a thistle.
When I gave it to Elberta Honstein to deliver to Julie,
Elberta fell in love with it. Typical of Julie's generosity,
she then gave it to Elberta for Christmas!!

"Lippizzans Watching"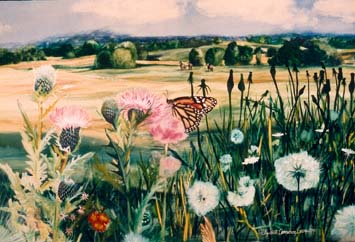 Watercolor mixed-media.
Videos: How I Paint
The Love of Grays
2009 Paintings!
Paintings That Are For Sale
Corporate Casual
The Stier-Johnson Family
The Cameron Family Portraits
Artist Biography
Paintings From 2006!
... Continuing Paintings From 2006!
Carriage Driving!
Paintings From 2004-2005
Foxhunt & Hound Series
More Progress In The Foxhunt & Hound Series
My cartoon books
Page 1. - Portraits
Page 2. - Portraits
Page 3. - Portraits
Page 4. - Portraits
Page 5. - Portraits
Page 6. - Portraits
Page 7. - Portraits
Page 8. - Dog Portraits
Page 9. - More Dog Portraits
Page 10. - Flower Paintings In Bloom
Page 11. - Dogs, Dogs & More Dogs!
Page 12. - Never Too Many Dogs!
Page 13. - Dogarama Spectacular!
Page 14. - Life With Horses
Page 15. - Hunting & Horses
Page 16. - Sibling & Scenics
Page 17. - Childhood Horses & Puppy Pix
Page 18. - Horse Portraits
Faerietale Farm Reality
Procedures & Prices

---
This page hosted by Tripod - Free Home Pages