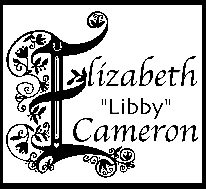 Elizabeth Cameron
Artist
This Work Is Not To Be Copied Without Permission From The Artist/Author.
Contact horseart2gmail.com
Books I Have Illustrated...
written by my sister, Julia Cameron
Available at all major bookstores and on Amazon.com
New October 2005!
How To Avoid Making Art...
Or Anything Else You Enjoy!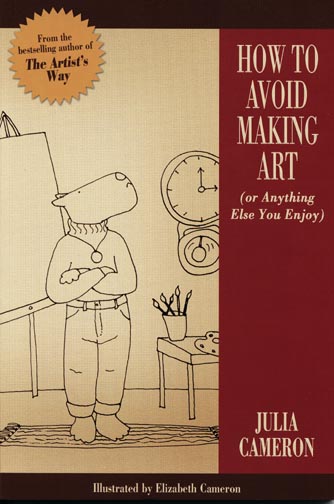 You'll see yourself in these cartoons!
The tricks we all play on ourselves are
brought to light where they are more easily recognized,
then laughed at and dealt with! Fun gift for artist friends.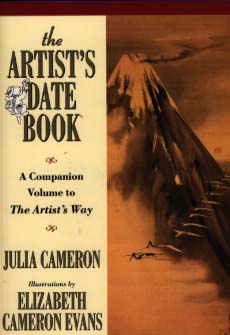 THE ARTIST'S DATE BOOK
JULIA CAMERON is the author of her best selling creativity book:
THE ARTIST'S WAY!
The Date Book was our first book collaboration.
365 creativity cartoons star my character "Theo".
Theo is an anthropomorphic artist-dog
who was inspired by a West Highland terrier.
The drawings act as a hilarious counterpoint to Julia's creativity teachings.
Two more books in our collaboration:

SUPPLIES
(a book where the silly cartoon dogs represent
the archetypes you'll run into in the creativity process)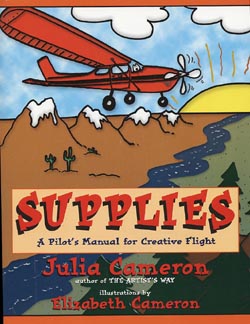 GOD IS DOG SPELLED BACKWARDS
(a dog cartoon book on searching for spirituality).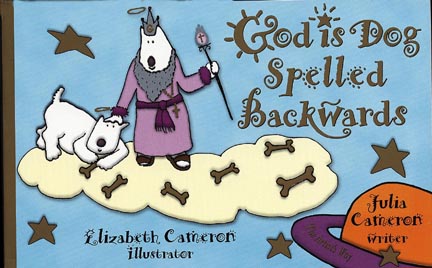 "I'm particularly inspired by my pack of dog helpers, but also by dogs in general. Everyone asks how I can have so many cartoon ideas. Well any dog lover knows the answer- I just watch my funny foursome! I love drawing the cartoons, and the more I draw, the more I laugh and am amazed. I never quite know what will come out of the end of my pencil! The concepts and quotes for the books are another matter entirely however, and in that light shines the most inspiring unique and unlimited genius of my sister, Julia!"

Please Note: I cannot accept any mail for Julia.
The way to contact her is through her New York publisher:
Julia Cameron c/o Tarcher/Putnam,
375 Hudson St., New York, NY 10014
email:scarder@penguinputnam.com
Thank you!

One of the cartoons from
THE ARTISTS DATE BOOK!
The book is in black and white-
but you can have fun coloring!




---


Videos: How I Paint
The Love of Grays
2009 Paintings!
Paintings That Are For Sale
Corporate Casual
The Stier-Johnson Family
The Cameron Family Portraits
Artist Biography
Paintings From 2006!
...Continuing The Paintings From 2006
Carriage Driving!
Paintings From 2004-2005
Continuing The Foxhunt & Hound Series
More Progress In The Foxhunt & Hound Series
My cartoon books
Page 1. - Portraits
Page 2. - Portraits
Page 3. - Portraits
Page 4. - Portraits
Page 5. - Portraits
Page 6. - Portraits
Page 7. - Portraits
Page 8. - Dog Portraits
Page 9. - More Dog Portraits
Page 10. - Flower Paintings In Bloom
Page 11. - Dogs, Dogs & More Dogs!
Page 12. - Never Too Many Dogs!
Page 13. - Dogarama Spectacular!
Page 14. - Life With Horses
Page 15. - Hunting & Horses
Page 16. - Sibling & Scenics
Page 17. - Childhood Horses & Puppy Pix
Page 18. - Horse Portraits
Faerietale Farm Reality
Procedures & Prices


---

This page hosted by Tripod - Free Home Page